Phlebotomy Overview
The Phlebotomy program will provide community healthcare facilities with professionally trained, certified phlebotomists to fulfill the role of obtaining quality laboratory specimens to be used in the diagnosis and treatment of patients.
Graduates may qualify for employment in hospitals, clinics, physicians' offices, and other health care settings and may be eligible for national certification as phlebotomy technicians.
ABTCC PBT 101 Phlebotomy Practicum (Clinical rotation)
AHA (American Heart Association) CPR Certification Requirement
In order to start the clinical rotation, a current CPR certification must be completed. They expire after a 2-year period so check your card if you already have it to see if you need to re-certify (it cannot expire before the end of your clinical rotation date).
It must be the American Heart Association CPR course level - Basic Life Support for Healthcare Providers. There are no substitutions due to this being a clinical affiliate contract requirement.
You have to take the class from a certified American Heart Association course instructor so make sure the provider you choose is teaching AHA. If you choose to sign up for one of the A-B Tech AHA CPR classes all of the information is listed below.
Schedule your training class before your clinic start date. Classes with low enrollment are subject to cancelation so plan ahead in case that happens!
A-B Tech Emergency Services Academy- EMS Continuing Education (American Heart Association course)
CPR Course: Basic Cardiac Life Support for Healthcare Providers
Contact: (828) 398-7903 or sign up online at EMS Training Classes and Information
ABTCC PBT Program Admission Check Sheet
* The background check and urine drug screen must go through a designated company that will be covered during the advising session.
CPR certification - (American Heart Association only - Basic Life Support for Healthcare Providers class)
Background Check *
Urine Drug Screen *
Medical Form (physical)
Uniform
Immunizations

3 DTP(diphtheria,tetanus,pertussis)


—OR—


Tetanus Vaccination
1 Tetanus=Tdap (Current within last 10 years)
2 MMR (If born AFTER 1957)


—OR—


MMR titer (if born BEFORE 1957)(blood draw –bring lab report with reference ranges for antibody levels of Rubeola IgG=Measles, Mumps IgG, and Rubella IgG= German measles)
2 Varicella (NOT had chickenpox)


—OR—


Varicella titer (had the chickenpox) (blood draw- bring lab report with reference range for Varicella IgG antibody level)
Hepatitis B (series of 3)
Tuberculosis (within last 12 months-annual)

TB skin test


—OR—


TB Blood Test (T-Spot or Quantiferon Gold)
*If either test has positive TB results you must provide

Both

:

A clear chest x-ray
Physician clearance documentation following last positive results

Flu shot (seasonal-annual in October)
COVID-19 (strongly recommended — potentially required)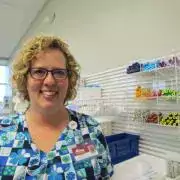 Monique Worley
I obtained a BS degree in Clinical Lab Science from Western Carolina University with an MT registry certification from the American Society of Clinical Pathologists. I worked 20 years in a hospital lab setting and then came to A-B Tech to share my knowledge of phlebotomy, test analysis, and lab management procedures. This background enables me to prepare our students for successful registry certification and employment.
Contact Information:
Monique Worley
Instructor, MLT - 9 mo
Medical Laboratory Technology
Applicants must be high school, HSE (high school equivalency), or Adult High School graduates. An official copy of the high school transcript or HSE diploma must be submitted to the program instructor during the program advising session.
Review the Phlebotomy Admission Overview PowerPoint, print out, and complete the Phlebotomy assessment (located above the slideshow) prior to meeting with an advisor to document eligibility. This is found on the webpage Selective and Limited Programs.
Complete college placement and New Student Orientation prior to acceptance into the program.
Once applicants are accepted into the program, they will attend an advising session for detailed instructions on program admission tasks required before the course starts.
Applications for all semesters will be accepted in the K. Ray Bailey Student Services Center on a first-come, first-served basis, starting September for the upcoming year fall/spring semesters and anytime prior to the first class meeting for the current semester. A maximum of 17 seats are available for Fall/Spring semesters on the main campus and an alternate list will be maintained for each semester once the first 17 seats have been filled. Applicants will be placed on the waiting list according to the date they complete an Eligibility Form/Placement Information (PI) form with an advisor.
Pre-Limited Advisors work with students applying to this program, and they can be reached at advising@abtech.edu. After you obtain a seat you will be given an acceptance letter with more detailed information. The acceptance letter will also list multiple advising session options (choose one) where you will get registration instructions by the Phlebotomy faculty advisors.
PSY-150 General Psychology OR PSY-118 Interpersonal Psychology credit is required in the PBT program. If you plan to pursue a 2-year or 4-year degree later we recommend PSY-150 for transfer credit. This can be taken before or at the same time as the PBT courses. A grade of C or higher is required. If you took it at another school then request an official transcript be sent to the registrar's office.
ACA-111 College Student Success is taught by the phlebotomy instructor along with PBT-100. This course will help students learn skills for success in the program.
It costs approximately $1,500-$2,000 for tuition, books, uniforms, CPR class, medical exams, immunizations, etc. Costs may vary depending on if you need the PSY class and/or extra immunizations. Due to the credit hour total, the phlebotomy certificate is not eligible for financial aid. Tuition costs can be divided into 3 payments over the time frame of the semester.
STEP is able to provide tuition and supply financial assistance for Buncombe County residents receiving food assistance in our county. Contact them at (828) 250-5500 press 6 and ask for STEP or email stepprogram@buncombecounty.org, or for more information visit Skills Training & Employment Program (STEP).
*The college refund policy applies if a student drops the program after being denied clinical site privileges.
The lecture is held 4 days per week and the lab is 2 days per week. Clinical rotations are 3 days a week.
PBT Program Course Requirements
Course
Title
12 Credit Hours Total
PBT-100
Phlebotomy Technology
6
PBT-101
Phlebotomy Practicum
3
PSY-118
Interpersonal Psychology
3
or
PSY-150
General Psychology
3
NAACLS Program Outcomes
*American Society for Clinical Pathology Board of Certification
Academic Year
2020
2021
2022
External Certification Results (ASCP BOC*)
100%
100%
100%
Graduation Rates
95%
95%
94%
Attrition Rates
5%
5%
6%
Employment Placement Rates and/or
(Further Education)
96%
100%
100%