Pratt & Whitney, an American aerospace manufacturer with global service operations will build a 1 million-square-foot advanced manufacturing center on a 100-acre site in South Asheville. This local plant will make airfoils for civilian and military engines, including the F-35 Joint Strike Fighter and several Airbus and Embraer civilian jets.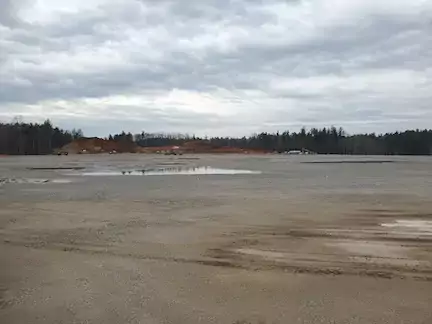 The photo above shows the site being prepared for building the plant.
Applying for Work at Pratt & Whitney
The greatest number of jobs will be associated with plant floor operations. When applications begin being accepted in the 3rd and 4th quarters of 2021, candidates will apply online. Process flow:
Apply Online > Application Screening > 16-Hour (non-paid) Pre-Employment Assessment (A-B Tech) > Interviews
Training
A-B Tech is partnering with Pratt & Whitney to provide a pipeline of skilled workers prior to the plant opening, helping to recruit qualified candidates, and pre-train and post-train employees. With support from Buncombe County, A-B Tech will build and operate a 20,000 square-foot workforce training center close to Pratt & Whitney's manufacturing site.
If you are interested in working at Pratt & Whitney, what can you do NOW to prepare?
Pratt & Whitney has endorsed two short-term training programs at A-B Tech, and completers of these programs will not be required to do the 16-Hour Pre-Employment Assessment and will be guaranteed an interview (provided pre-screening of a candidate's application is complete). A-B Tech has a lot of scholarship money available that could make these programs FREE!
Machining Fundamentals
15 weeks, 330 hours:
Learn to operate mills and lathes, drill presses, saws, and grinders. During this 15-week course, you will work hands-on with actual equipment to learn basic automated machining. Additional course topics include an introduction to CNC machining, shop safety, blueprint reading, shop math, Lean Manufacturing principles, teamwork, and problem-solving.
A-B Tech will be offering participant flexibility with day and evening classes throughout the next year. Next classes:
7/9/21 - 9/2/21
9/7/21 - 10/18/21
10/20/21 - 11/2/21
Certified Production Technician
8 weeks, 160 hours, ONLINE hybrid structure (scheduled online instruction coupled with self-paced course work):
Covers safety, quality practices and measurement, manufacturing and production processes, and maintenance awareness. This course prepares students to pass the four exams required to receive the Certified Production Technician (CPT) certification.
A-B Tech will be offering participant flexibility with multiple hybrid classes throughout the year. The bulk of this class can be completed online in a self-paced format.
New classes are offered every two weeks.
To apply for financial assistance and get help registering for classes contact:
Patrycja Manning at patrycjaamanning@abtech.edu, (828) 398-7295, or Leigh Bennett at leighbennett@abtech.edu, (828) 398-7760.
Other Regional Community Colleges Offering Similar Programs
Other local community colleges are offering similar programming with the same result - completers of these programs have the same benefit of a guaranteed interview with Pratt & Whitney when they begin hiring.
General Information About the Local Pratt & Whitney Project:
New jobs:
800 over 5 years, 300 – 400 to start
Job categories:
Machine setup and operation, quality, material handling, engineering, shipping and receiving, facility and equipment maintenance, and business support
Number of shifts:
3
Salaries:
Undetermined at this time. P&W has a projected annual payroll of nearly $55 million, with the positions averaging $68,000 a year.
Planned open date:
July 2022
Timelines:

Applications accepted – Q3/Q4 2021, Q1/Q2 2022
Pre-hire assessments (A-B Tech) – Q3/Q4 2021, Q1/Q2 2022
Interviews – Q3/Q4 2021, Q1/Q2 2022
Training for new hires (A-B Tech) – Q1/Q2 2022
Plant operational – July 2022