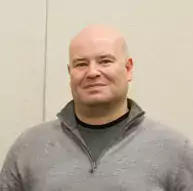 Daniel Mancuso, Chair of Electrical, Electronics, and Computer Engineering Technologies at A-B Tech, has accepted the position of Chair of the Body of Knowledge for the Maintenance & Reliability Engineering fields, with the Society of Maintenance & Reliability Professionals (SMRP).
Mancuso will lead a team tasked with researching and standardizing technical knowledge and best practices.  He will also serve on the SMRP National Workforce Development Board as they identify best practices and promote manufacturing and industrial training in the United States.
The Society for Maintenance & Reliability Professionals (SMRP) is a nonprofit professional society formed by practitioners to develop and promote excellence in maintenance, reliability and physical asset management while creating leaders in the profession. SMRP provides ANSI-accredited certification programs to validate the skills of practitioners and give them an edge when applying for jobs in maintenance and reliability.