A-B Tech Mission, Vision, and Values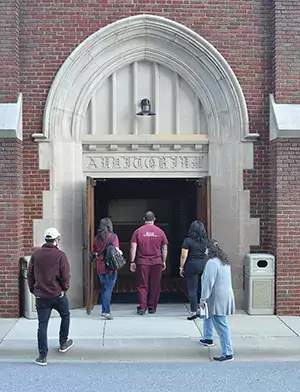 Mission
Dedicated to the success of students and communities, Asheville-Buncombe Technical Community College provides meaningful teaching and learning in a curriculum, continuing education, and workforce development environment committed to Respect, Integrity, Support, and Equity (RISE). We welcome everyone to join us.
Foundational Focus Areas
Equity

: Systems, policies, and practices that support equity for all people and an organizational culture that embraces diversity and inclusion.

Learner Focused

: Meeting students' needs inside and outside the learning environment so they can fully engage.

Removing Barriers

: Eliminating obstacles to effective communication, collaboration, and student success.

Financial Wellness

: Ensuring the fiscal sustainability of students, our employees, our institution, and our community.
Vision
Changing Lives • Strengthening Communities
Values
Excellence
Learning
Supportive Environment
Innovation
Inclusiveness
Continuous Improvement
Non-Discrimination Statement
The A-B Tech Board of Trustees and Administration are fully committed to encouraging and sustaining a learning and work environment that is free from prohibited discrimination. The College does not practice or condone discrimination based on race, color, national origin, religion, sex, sexual orientation, gender identity or expression, pregnancy, disability, genetic information/medical history, age, political affiliation, or veterans' status in the administration of any of its academic programs and employment practices.