Are you a registered nurse who has a passion for teaching? If you're looking for a career change or additional work, A-B Tech has a terrific opportunity. Due to the high demand for Certified Nurse Aides (CNA), the college is in immediate need of additional part-time adjunct instructors for day and evening classes in Asheville and Madison County.
While there is always a demand for CNAs to work in hospitals, nursing, and rehabilitation facilities, and home health care, the need is even greater during the COVID-19 pandemic. A-B Tech currently has a waitlist of more than 70 students for the program, but not enough instructors to provide immediate training.
"The demand for nurse aides continues to rise," said Teresa Robinson, A-B Tech's Health Occupations Coordinator. "According to the employment search site Indeed, there are 1,875 to 2,365 nurse aide jobs currently available in North Carolina alone."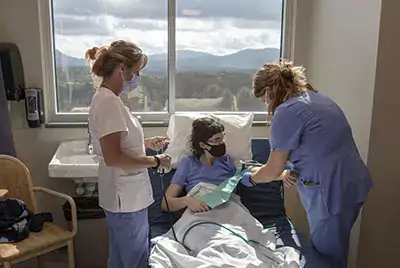 Robinson said Nurse Aide certification also is a basic requirement for admission to many nursing programs.
In NC, nurse aide instructors are approved by N.C. Division of Health Service Regulation. Qualified candidates must be RNs with an unencumbered current license, experience supervising nurse aides, and/or teaching adult learners. Nurse aide instructors also need computer skills, knowledge of college policies and procedures, grading systems, attendance rolls, and geographic locations of teaching sites under A-B Tech. In addition to managing their courses, instructors must be able to manage a very diverse population in the classroom. A-B Tech values a diverse and inclusive work environment and welcomes applicants with diverse backgrounds.
Beyond the basics, training nurse aides can be fulfilling work for instructors, Robinson said.
"Nurse aide instructors are in the health care field because they care for people," she said. "They invest their hearts to teach students to step into their shoes one day. They have faced their personal fears and returned to the classroom because they have integrity in their commitment to students, to each other, to supervisors, and to A-B Tech."
Interested applicants should contact the Health Occupations Department at (828) 398-7878 or via email at healthoccupations@abtech.edu. The application may be found at Adjunct Instructor, Nursing Assistant Program (Continuous Posting).