Diversity and Inclusion Committee
It is the philosophy of A-B Tech that diverse activities add cultural richness to our associations, support the College mission, and energize our campuses.
The A-B Tech Diversity and Inclusion Committee advocates for a college-wide environment where everyone feels invited and included. The committee strives to foster awareness and understanding of diversity issues through interactive learning opportunities.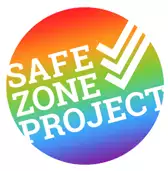 What does this symbol mean?
When you see this symbol on someone's office door or in their office, on their books, etc., it means the person is empathetic and informed about Lesbian, Gay, Bisexual, Transgender, Queer, Questioning, Intersex, and Asexual issues and is willing to provide support, information, and privacy.
A-B Tech is a participant in the Safe Zone program and seeks to create a climate of safety for all members of the college community.
Multicultural Student Leadership Association
The purpose of the Multicultural Student Leadership Association is to increase retention and graduation rates among underserved students, as well as to provide leadership activities and training.
To accommodate extremely busy schedules, the Diversity Committee is expanding our programming format to include online offerings. Our hope with the World Religions Series is that you can take a moment out of your day to explore the many diverse and yet similar aspects that make up the religions of the world. A seven-part PowerPoint series, Religions of the World provides an overview of five major religions - Buddhism, Christianity, Hinduism, Islam, and Judaism. Many thanks to Phyllis Boone, series researcher, and creator, for sharing her enthusiasm for world religion!