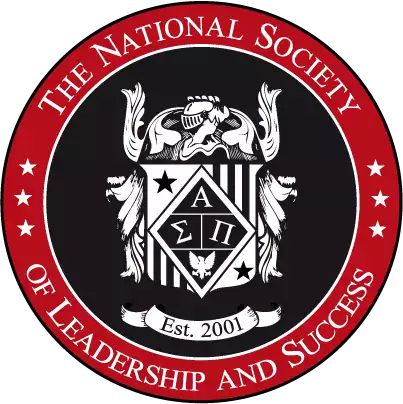 Frequently Asked Questions
A-B Tech Chapter
The National Society of Leadership and Success is a leadership program that has hundreds of branches throughout the nation at community colleges and universities, with the mission to train leaders who will make a strong positive impact on others. The A-B Tech chapter, SIGMA ALPHA PI, is designed as a one-semester leadership development training that utilizes the resources of the National Society of Leadership and Success.
Students who have completed 9 curriculum credit hours and are maintaining a 3.0 GPA or above are sent a letter in the mail with an activation code. All you have to do is find the activation code listed in the letter you received in the mail. Then simply go to The National Society of Leadership and Success to enter your official activation code and pay your one-time membership fee. If you have misplaced your letter, you can request your activation code by emailing studentsupport@societyleadership.org. Unfortunately, we at A-B Tech do not have access to your activation code since this comes directly from the national office. Be sure to activate your membership and pay your membership fee by the date listed in your invitation letter.
There are numerous benefits to joining this program.
There are tangible benefits such as customized letters of recommendation for prospective employers or graduate schools, online resources on the Society's website, graduation accessories that you may purchase and wear at your graduation to display your membership in the organization, access to exclusive scholarships and awards, Success Coaches, our entire Keynote speaker series, as well as an official certificate, a society t-shirt, and more!
But most important are the soft skills that you will gain from membership.
So what are soft skills? Soft skills are not just friendliness and personality; they enhance your job skills and many other activities. They are communication skills, personal habits, and social graces that complement your interactions, job performance, and career prospects. They will drive your future and establish you as a leader among your peers, and include improved self-esteem, peer leadership skills, sustainable motivation and drive, paradigms that will help you discover and achieve your dreams, real-world skills that will help you outperform your peers in the workplace, and an enviable network of movers and shakers that are all a part of the drive to create lasting positive change in the world. If you allow it to, this program will change your perspective on your life and career. It will give you an advantage over fellow job applicants who may have the knowledge but not necessarily the soft skills. As one of our speakers pointed out, technical skills will get you an interview, soft skills will land you the job!
For a full list and explanation of our membership benefits please visit the National Society of Leadership & Success Reviews & Benefits.
This Society was founded in 2001. Gary Tuerack, the founder, says, "The National Society of Leadership and Success was founded with the sole purpose of creating lasting positive change." He talks of how he was an extremely slow reader and how he struggled in school. He learned strategies to help him read faster, concentrate, retain information, and improve his grades. He wants to use this honor society to reach out to others and help them realize their own potential. He has reached thousands of students and hundreds of chapters.
The average amount of time it takes to complete the steps for membership is approximately 15 - 20 hours Spread Out over the course of one semester. While most members do finish their steps for membership in a single semester, you may take longer if needed (as long as you finish prior to graduating). If you have scheduling conflicts with some events this semester, you may complete certain requirements and continue to work toward induction in the following semester. This time should not be considered a chore or an obligation. Our goal is to re-energize you and give you some time away from your busy lives for individual growth and stability.
Society members pay a one-time registration fee of $85 when applying to join the organization. The fee includes all membership benefits, partner discounts, and lifetime membership this money goes directly to the national office, not to A-B Tech, and must be paid at the time of activating your membership. Feel free to attend an orientation session to learn more about the program and determine if it is something you would be interested in setting aside funds for in a future semester. We know as a student $85 is probably a lot for you. We would ask that you remember this is an investment in your future.
Upon filling out the online application and paying the one-time registration fee, you are considered a pre-inducted member of the Society. After you have completed the steps to induction (which requires approximately 15 hours of your time) you will become an inducted member. We are offering the opportunity to attend all required events in one semester; however, you may take more time if necessary.
The steps that you need to complete to be officially inducted into the Society of Leadership are:
Orientation
Leadership Training Day
Three speaker broadcast events
Four Success Networking Team meetings
Orientation is the first meeting that occurs each semester and gives you access to all the information you need about the program in order to successfully complete the steps for induction as a member. Please plan to attend one of the following Orientation sessions:
February 14 from 5:00 p.m. - 6:30 p.m. in Ferguson 107
February 15 from 5:30 p.m. - 7:00 p.m. in Ferguson 107
February 21 from 5:30 p.m. - 7:00 p.m. in Ferguson 107
February 3 from 3:00 p.m. - 4:30 p.m. in Ferguson 113
February 5 from 5:30 p.m. - 7:00 p.m. in Ferguson 113
The Leadership Training Day is where members create personal mission statements, explore goal-setting strategies, and learn about tools to keep them on track as they move toward their goals. Goals could be short-term in nature, like getting an A in Math this semester, or long-term like starting a business. This introspective seminar helps you to recognize your strengths and weaknesses, in order to shift your focus toward your real passions. Food, a workbook, and all supplies will be provided. Only one Leadership Training Day will be held each semester, and this event is required before moving forward in the program. Please plan to join us Friday, February 7 from 1:30 p.m. - 4:30 p.m. in the Ferguson Building, room 121.
At the Speaker Events, we present some of the world's most successful motivational speakers discussing topics related to leadership, identifying goals, facing challenges, personal growth, and successfully transitioning from college to career. These events last 1.5 - 2 hours and are held in Ferguson Auditorium.
Live Broadcasts:
February 18, 6:45 p.m.
February 25, 6:45 p.m.
March 10, 6:45 p.m.
Rebroadcasts:
February 28, 2:30 p.m.
March 6, 2:30 p.m.
March 27, 2:30 p.m.
The Success Networking Team meetings bring together groups of students that work together and provide peer coaching on achieving goals. You can discuss goals, desires, and expectations, set timelines, and hold each other accountable for achieving what you want. The Success Networking Team provides members with a support network of like-minded goal-oriented students on campus. Meeting times will be decided by students according to their own schedules. A minimum of 4 meetings is required.
If you want to pay your membership fee using a check or money order, you can submit a paper application for membership to the National Office. To submit a paper application, please visit the Society website at the National Society of Leadership and Success Invitation and enter your invitation code. Once you have accessed the online application and get to the section asking for Payment Information, you will see a link to the Paper Application. You can print and mail this application with a check or money order.
Keep in mind that while you can fill out a paper application, you do need regular access to the Internet in order to successfully complete the leadership training program and become inducted as a Society member.
Don't worry! NSLS has hundreds of chapters at colleges across the nation, so if you have plans to transfer to another institution, there is a good chance you will find a chapter there. You also have the option of transferring to the online chapter to maintain active membership, regardless of your plans after A-B Tech. Also, remember the benefits you gain from this organization are life-long.
Once you have completed the steps to induction, the national office will send your membership items (including your certificate, t-shirt, car decal, and pin) to us, to be presented to you at your Induction Ceremony at the end of the semester. Once you have been inducted, you will also have the opportunity to purchase honor cords from the national office, and you will be able to wear them at A-B Tech's graduation.
Please come prepared to ask any questions you may have at orientation.
Absolutely! The National Engaged Leader Award (NELA) is presented to members that go above and beyond the steps for membership and is distributed by the advisor at the chapter Induction Ceremony. In order to receive this award, members must be an inducted member of the Society, attend the NELA kick-off event, attend an additional three speaker events, participate in an additional three SNT meetings, and complete a service project with your SNT group.
"In going through the National Society of Leadership and Success program I have learned that leadership is not something you either have or do not have, it is a group of skills that can be learned, taught, and worked on. I truly appreciate this program and what it has taught me about who I am and how to get to where I want to be. This program can be a great asset to your personal and professional life." — Crystal Purple, A-B Tech Student
"This unique society has taught me self-confidence, how to take any negative and look at it positively, how to set and keep goals, how to appreciate others and the valuable information that they have, and most of all how to grow emotionally. These are only a few traits my 85-dollar investment has promised me. These skills will last forever." — Shaniqua Simuel, A-B Tech Student
Return to Leadership Program page