Sustainability Committee Mission
A-B Tech is fully committed to waste reduction and recycling as a means of environmental sustainability, and resource conservation, and adheres to local and state rules. Our commitment to waste reduction reaffirms the waste management directive supported by state and federal mandates.
The Sustainability Committee supports programs and projects such as becoming a Bear Campus, Bee Campus, Tree Campus as well as various stormwater and recycling projects.
Locations of Water Bottle Fountains on A-B Tech Asheville Campus
Building
Location
AHWD 1st Floor
1 – In the vending machine area of the student lounge directly behind the main lobby
1 – Next to Health Clinic (115.17) (across from designated study area)
1 - Dental Clinic
AHWD 2nd Floor
1 – Between Central Sterile Processing (221) & Surgical Technologies (Surg Tech) (22
1 – Between rooms 207 & 208 (in the hallway directly behind the main lobby stairs)
1 – Next to Clinical Massage (242)
AHWD 3rd Floor
1 – Across from Veterinary Medical Technologies (Vet Tech) (339) and classroom 336 1 – Next to Health Occupations Suite (308)
1 – Next to Nursing Simulation Suite (313)
AHWD 4th Floor
1 – Next to Storage (422.1) (near Nursing Faculty Office 419)
1 – Next to center stairs across from Janitor Closet (405) & Data (406)
1 – Between entrances to classroom 446 & across from classroom 441
AHWD 5th Floor
1 – Outside Room 508
Bailey
1 – Outside doors to Station B on the right side of the wall
1 – Main Corridor near restrooms
Haynes
1 – 1st-floor near the elevator
Birch
1 – 1st-floor early college hallway
1 – 2nd-floor early college hallway
1 – 1st-floor near the barbershop
1 – 2nd-floor early college hallway
Chestnut
1 – Near restrooms
1 – Back hallway
Coman
1 – Gym
1 – Main Entrance
1 – Near restrooms
Dogwood
1 – Administrative hallway near restrooms
Elm
6 – 1 at each restroom on each floor
Ferguson
1 – Auditorium lobby near restrooms
Hemlock
1 – 1st-floor near the elevator
1 – 2nd-floor near the elevator
Locke
1 – 1st-floor near the elevator
1 – 2nd-floor near the elevator
Magnolia
1 – 2nd-floor near restrooms
Maple/AMC
1 – Basement floor near restrooms
Mission/A-B Tech Conference
1 – Between entrances off Fernihurst Drive
Sunnicrest
1 – By restroom near the kitchen
Poplar
1 – Outside restrooms
A-B Tech Madison
1 – Outside of restrooms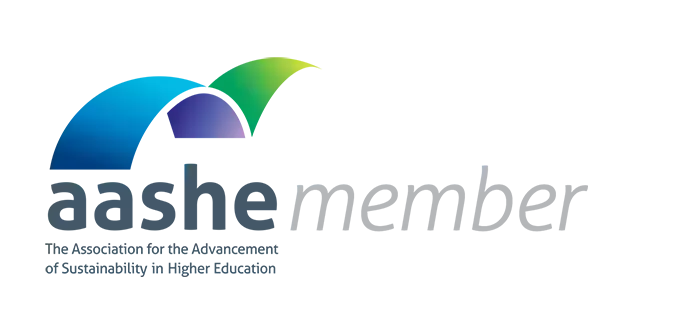 The A-B Tech Sustainability Committee is excited to be a member of the Association for the Advancement of Sustainability in Higher Education (AASHE). AASHE is a non-profit 501(c)(3) membership organization that empowers higher education faculty, administrators, staff, and students to be effective change agents and drivers of sustainability innovation.
Everyday Recycling Guidelines
A-B Tech aims to recycle as much as possible within programs and across all campuses.
Receptacles with blue liners are for recycling and items placed in the bin will be recycled accordingly. Receptacles with black liners are for landfill waste and all waste items will be directed to the landfill. Recycle and landfill waste bins will typically be located next to each other as side-by-side twin bins.
Corrugated cardboard should be flattened and placed next to the recycling and landfill waste bins for collection. Cardboard that is not contaminated with food particles is recycled in a dumpster on campus. This cardboard is then collected by a local business that compensates the College for the cardboard. Funds received from this recycling effort help support additional sustainability projects on campus.
Food waste is not recyclable.
Landfill waste receptacles are not located in each classroom. Most classrooms on campus use centralized waste receptacles located in the hallways to dispose of waste. This sustainability and recycling guideline is known as "All in the Hall". Exceptions to "All in the Hall" are lab rooms, conference rooms, and bathrooms.
Most offices will have recycling receptacles. Any requests for other receptacles should be made to the immediate supervisor, who, upon approval, should direct the request via email to Aaron Surrett at aaronmsurrett@abtech.edu. Requests will be accommodated as we are able. The custodial staff will only be expected to empty one waste receptacle in each office, the occupant will be responsible for emptying any additional waste receptacles.
Recycle and landfill waste receptacles are located in common areas for waste disposal.
What Can Be Recycled
Blue Bags
The following items can be placed in blue bags for recycling. All items should be empty/clean before placing in recycling.
Plastic — drink bottles, tubs (ex. yogurt, margarine), plastic milk jugs, shampoo bottles
Metal — aluminum cans, aluminum pie, and food trays (cleaned), steel cans, aerosol cans (empty)
Glass — bottles, jars including metal lids (>2" diameter)
Paper — office paper, mixed paper (see below*), gable top cartons (ex. milk, juice carton)
* Mixed paper — catalogs, junk mail, magazines, phone books, post-it notes, cereal boxes, cardboard egg cartons, paper towel tubes, paper bags, and envelopes.
If you are unsure if something is recyclable, go to the 'Waste Wizard' website – scroll down and click on 'wizard' in the center of the page.
Beside Twin Bins
Corrugated cardboard (ex. shipping boxes) – these boxes should be flattened and placed next to the twin bin containers.
Cannot Be Recycled
What goes to the landfill?
Black Bags
The following items should be placed in black bags to go to the landfill.
Paper towels and napkins
Food waste* and food wrappers
Disposable coffee and drink cups (paper, plastic, styrofoam, compostable)
Plastic cutlery and straws
Deli/Take-out/clamshell containers (plastic, styrofoam, cardboard, compostable)
Tanglers (wires, spirals, cords)
*If you are looking for an alternative to landfilling your food waste, think about taking it to a food waste drop-off location where it can be turned into compost. You could also make your own compost pile.
The following items cannot be recycled on campus but can be taken to alternative locations for recycling:
Thank you for your willingness to help in these recycling efforts.
Ways to participate in Sustainability in the community
Earth Day (Recycling and more)
Invasive Plant Removal
Pollinator Garden Planting Days
Greenhouse Spring Plant Sale (April)
STEM Presentations (Arts & Science Division)
Refill your water bottle on campus
To contact the Sustainability Committee – email sustainability@abtech.edu