Home to Students and Wildlife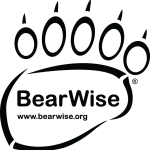 A-B Tech is home to many wildlife species. Fox, deer, snakes, turtles, turkeys, and bears rest, eat and pass through campus. In order to protect the largest of those species, A-B Tech is in the process of becoming a BearWise Bear Campus through the North Carolina Wildlife Resources Commission which means the campus will continue to do all it can to keep bears and people safe.
Bears are special to A-B Tech
and are in our logo and our Mascot!
Black bears exist throughout Asheville and can be seen on 3 of the A-B Tech Campuses (A-B Tech Asheville, A-B Tech Madison, and A-B Tech Woodfin). They do not often interact with people, instead are more often seen crossing roadways, grassy areas, and parking lots. They can be seen during the day or night and everyone is asked to be vigilant while driving or walking across campus.
When on campus - please be mindful of throwing trash in the proper receptacle.  Bears are not finding food on campus as trash is being deposited in the many trash cans available across campus.
If You Spot a Bear on Campus:
Call campus police at (828) 398-7125 so they can respond to protect bears and people from interactions. When you call them, describe the bear's behavior based on the information below. Follow the instructions below as well.

Normal — Observe from a distance and do not approach. Warn others in the area of the bear's presence and complete this form to report the sighting.
Concerning — Observe from a distance and do not approach. Warn others in the area of the bear's presence and complete this form to report the sighting.
Threatening — Move away slowly from the bear, do not approach, and alert police to the bear's location as quickly as possible. When in a safe location use this form to report the sighting.
(Click image to view PDF)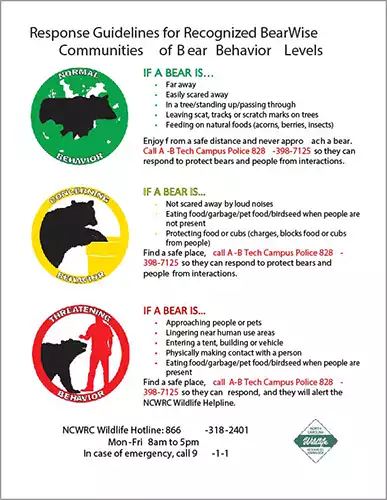 After you have contacted the police, fill out this form to specific bear locations and activities (links to form) so we can keep a record of bears' sightings on campus.
For your safety and the bear's well-being, do not approach
bears at any time on campus. Never feed bears or other
wildlife you see on campus.
To keep people and bears safe please follow these 6 Outdoor basics
(Click image to view PDF)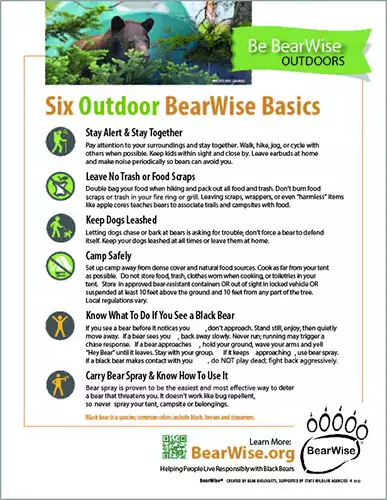 Be on the lookout for other wildlife species found on A-B Tech campuses: Deer, turkeys, turtles, snakes, butterflies, bats, foxes, woodchucks, songbirds, wading birds, ducks, and more!
Visit the North Carolina Natural Wildlife Commission to learn more about bears and other species across North Carolina.
Go to BearWise to learn about:
Bears at Home
Bears and Dogs
Hiking and Camping in Bear Areas
How to attract Birds not Bears
Bear Coloring pages for kids
Black bear information
Bear information in Spanish
A-B Tech Community College does not condone the feeding, harassing, or disturbing of any wildlife found on campus. Encounters with bears, groundhogs/woodchucks, squirrels, foxes, deer, birds, and other species are possible and should be avoided. Any injuries to people or wildlife should be reported immediately to campus police at the Emergency number: (828) 398-7125. Information specific to safety around bears can be found at BearWise. Any individual who violates the above is subject to discipline under the Student Code of Conduct (students) or Human Resources Policy and Procedures 509.01 (employees) in addition to any applicable federal, state, or local laws.