In partnership with A-B Tech, Biltmore will award four Training Scholarships to students of the college's renowned Culinary Arts or Baking & Pastry Arts programs. Students will "learn and earn" through an individualized training program supported by the scholarship. The first recipient is Baking & Pastry Arts student Andjela Legrand. Biltmore will also sponsor A-B Tech's Student Hot Food Team in the American Culinary Federation's National Competition in July in Las Vegas.
Recipients of the training scholarship are awarded funding each semester while working for Biltmore. Managers work with the students to schedule their work hours around classes.
"This substantial training scholarship shows that Biltmore is investing in its people and will create a bond that is over and above just a paycheck. Biltmore is an incredible industry partner, and we are excited about the opportunities these generous scholarships present to students," said Cathy Horton, Director of The Brumit Center for Culinary Arts and Hospitality and Department Chair for Culinary Arts & Hospitality Management. "Employers need to think outside the usual box as they look for new employees."
For the Student Hot Food Team's preparation for the American Culinary Federation's National Competition, Biltmore donated food items to the team's fundraising barbecue event in support of the team's travel expenses to the competition. Additionally, Biltmore's executive chef Mark DeMarco provided kitchen space for the students to practice for the competition.
Members of the Hot Food Team are Roman Nourse (captain), Emmer Moraza Rodriguez, Michael Tan, Christy Greer, and Josh Waters. The team manager is Jason Gray.
"The idea is to give them the chance to work in a kitchen that is totally different than what they're used to at school," DeMarco said. "This gives them the organizational skills they need to write accurate prep sheets, and packing lists, and face other potential obstacles they may not otherwise see working in their home kitchen at A-B Tech."
The students will also receive a preview of the judging process, as some of Biltmore's chefs will judge the student's plated meals and how they organized themselves.
"Biltmore is truly an exceptional industry partner in so many ways. They have invested substantial resources into our programs through time, money, and in-kind donations. These have made a tremendous difference in the lives of our students, many of whom have gone on to work for the Biltmore and develop very successful careers there," Horton said.
When the team competes at the end of July, it will be for a record 13th time. A-B Tech has sent more competition teams to the ACF Nationals than any other culinary program in the country.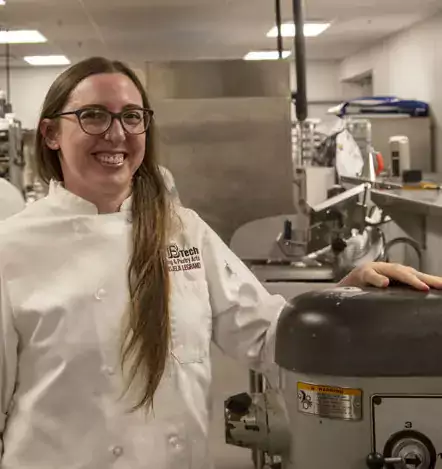 "This Hot Food Team has worked incredibly hard on a very ambitious menu in anticipation of heading to Las Vegas," said team coach Chef Stephen Hertz. "This team being my first one as head coach is an honor to lead. They are such a strong group of aspiring chefs. The journey and growth I have observed of these students over the past seven months have been a true inspiration."