State Competition
North Carolina Phi Beta Lambda held its State Leadership Conference online, with A-B Tech winning several awards. Students David Peck and Bethany Duke qualified for Nationals, which will be held at the end of June.
Peck placed first in Macroeconomics and second in Financial Concepts. Duke won second in Organizational Behavior and Leadership and third in Retail Management. According to PBL Advisor Veronica Dooly, they were the only two to compete, and both qualified for nationals in both of their events.
Dooly and Advisor Marlene Frisbee were recognized for their 10 years of service to the organization. The chapter was also awarded fifth place for its Annual Business Report. It received a Legacy Leadership Award for excelling in programs and is a Gold Seal chapter for being one of the top 5-percent in the state.
To earn these awards the chapter participated in events and fundraisers throughout the year, including the following:
Held virtual fundraiser for Eblen Charities Christmas Project
Worked with ABCCM packing food and organizing clothing (ongoing project)
Made donation to March of Dimes
Participated in the Fall Leadership Development Experience – virtual conference
Have the largest Professional Division membership in the Western Region of NC
Held the Holiday Wreath sale
Contributed to the Phi Beta Lambda scholarship fund
National Competition
The PBL National Leadership Conference had our students competing with students from 40 states.  This included university students as well community college. The results are as follows:
3rd place               David Peck                          Financial Concepts
7th place               David Peck                          Macroeconomics
3rd place               Bethany Duke                    Retail Management
Gold Seal Chapter (top 5% chapter)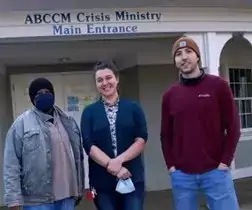 From left, Phi Beta Lambda members Kiva Jones-Wilmer, Bethany Duke, and David Peck, at ABCCM in February.