Coach Chef Bugher Receives President's Medallion
A-B Tech's Student Culinary Team won a bronze medal during the American Culinary Federation's National Competition during the last week of July in Las Vegas. A-B Tech Instructor Chef Chris Bugher, CEC, who also serves as a team coach, was overwhelmed to receive the President's Medallion.
"I am beyond words to be selected to receive the Presidential Medallion from the American Culinary Federation. From student teams, Southeast Chef of the Year, and lifelong friends, this organization has given so much to me," Bugher said.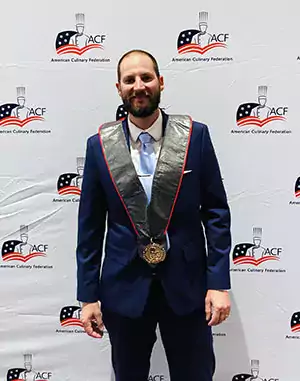 The Presidential Medallion is considered the highest honor is given by the President of the American Culinary Federation. It is presented in recognition of the outstanding representation of the ACF's fundamental principles, including superior strength of character and continued contributions to ACF and/or the culinary industry.
The student culinary team earned a bronze medal, which is based on scoring and not placement. No team in the competition earned a gold medal and only two others earned a silver. Students are judged on the four-course meal, along with knife skills, cleanliness, and organization.
The menu included a hemp seed and millet-crusted catfish for the appetizer and a deconstructed BLT Romaine salad. The entrée was Poulet Sauté Marengo, which was mushroom and truffle farce stuffed chicken breast. Dessert was a mint-dusted lemon sponge cake with honey buttercream.
Members of the team were Roman Nourse (captain), Emmer Moraza, Michael Tan, Christy Greer, and Josh Waters. The team manager is Jason Gray. Bugher, who coached with Chef Stephen Hertz, CEC, said the student team did well. "They had the best-looking food there. It tasted good. They did what they came to do," he said.
The judges were complimentary of the team and their menu. "It was so gratifying to hear the judging critiques. One said that A-B Tech has held a long-standing record of excellence and this team upheld the tradition. They praised our students for their teamwork, communication, and camaraderie, as well as giving high marks for flavor, sanitation, and execution of technique," said Cathy Horton, Director of The Brumit Center for Culinary Arts and Hospitality and Department Chair for Culinary Arts & Hospitality Management.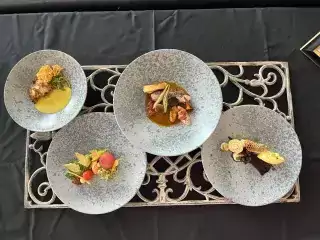 Chef Hertz, who was also a member of the student team that attended nationals 11 years ago, said, "I am so proud of our team this year. These amazing and talented culinarians have been great to work with. Their demeanor and ability to stay positive and lead by example were inspirational. Watching them put themselves out there and build lifelong friendships with their fellow competitors rings to the heart of what competition is all about. In the ACF we have the 'Culinarians' Code' and these growing chefs completely embody that code's core values of respect, professionalism, cooperation, and support for the success, growth, and future of all culinarians. I look forward to watching them advance in their careers and continue to lead by example."
"It is an enormous endeavor to send teams to annual competitions," Horton said. "The coaches and I are so very grateful to our Foundation and upper administration for believing in the importance of ACF competition. Biltmore's $10,000 sponsorship this year also went a long way toward allowing us to reach our Las Vegas destination. US Foods donated food and products to us, as well. We are so appreciative."