The Craft Beverage Institute of the Southeast ® (CBI) at A-B Tech was founded in 2013 to support the rapidly growing craft beverage industry in Western North Carolina and the Southeast by providing curriculum and non-credit courses in brewing, distilling, fermentation, and related business practices. Its Brewing, Distillation and Fermentation AAS degree was the first two-year program in the nation. The Institute prepares individuals for positions in brewery and distillery operations and management, distribution, sales and marketing, and customer service or to be self-employed and open their own craft production facility.
Located at A-B Tech Enka, the Craft Beverage Institute offers a training fermentation facility that supports real-time learning and reflects industry standards:
Commercial size brew-house
Six pilot brewing systems
Hybrid distillation system
Commercial winery production equipment
Sensory analysis lab
Packaging lines
Quality assurance/quality control lab
In addition to brewing, distillation, and winemaking practices, students perform experiments and vet their production output via sensory evaluations. Students perform experiments and receive "just-in-time" instruction. 
Learn more about our curriculum Brewing, Distillation, and Fermentation program.
Craft Beverage Institute program brochure.
Listen to Jeff "Puff" Irvin's, podcast Consuming the Craft.
Craft Beverage Institute Staff
The Craft Beverage Institute of the Southeast is part of A-B Tech's renowned Culinary Arts and Hospitality Management program - home of the nation's first two-year degree in Brewing, Distillation, and Fermentation. Please contact us if you have questions about the Institute, our programs, certifications, workshops, and conferences.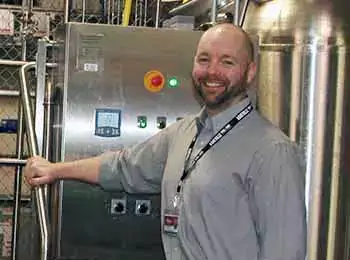 Jeff "Puff" Irvin
Director Craft Beverage Institute of the Southeast