Posted on the Blue Ridge Public Radio website on July 19, 2023
Listen to A-B Tech Culinary Team Preps for Competition Blue Ridge Public Radio
Update 7/20: A-B Tech's culinary team tied for second place at the American Culinary Federation finals!
A local community college is competing for the gold. The five-member culinary team from Asheville Buncombe Community College is in New Orleans this week competing against three other teams in what some call the Culinary Final Four: the American Culinary Federation National Competition.
Under the sounds of blaring kitchen fans, the voices of the A-B Tech culinary team mixed with a cacophony of chopping, blending, and sizzling. Five chefs, a mix of new graduates and current students ranging in age from 19 to 58, lined up along a stainless-steel kitchen prep table for one of their final practice runs before the trip.
They moved with robotic precision, not wasting a second of the 90 minutes they had to prepare and cook a four-course signature meal. The menu remained a top secret but the rules required that it begin with a fish item.
Nickolas Abbott, the team's head fish butcher, described the process of cleaning seafood on a deadline.
"Well, it definitely took some getting used to," Abbott said. "I am a local to the area, and I've broken down a lot of trout, but working with seafood isn't something that I'm super familiar with. So coming into this experience and being able to learn these skills has been an amazing opportunity."
The student team secured their spots in the national contest by taking the Southeast Regional title back in March.
Team member Abbey Franklin, who came to A-B Tech with a bachelor's in fine arts, worked on a salad at the practice. She said she approaches the plate as a palate.
"I think about balance, like texture, color, all those things in art. There's simplicity with salad, but at the same time, there's complexity. I really enjoy doing all the knife cuts, working with the balance of flavors, all those things that go into a great salad!"
The competition marks a record-setting 14th time an A-B Tech student team has competed for the national title. The last time they took home gold was in 2007.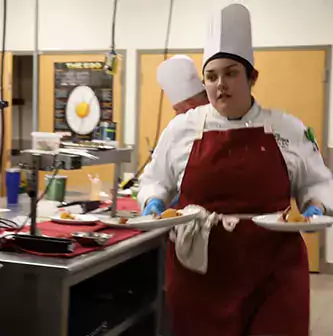 The long stretch without an award didn't faze Ashley Neri, the team's meat butcher, who was working towards a degree in forensic anthropology when a life-changing event pulled her into culinary school.
"My grandmother passed away. She loved watching me in the kitchen," Neri said. "She just saw so much light in me and one day I just decided to take a turn and a chance. And it has been something that has made me a better cook, a better chef - it's really changed me for the better."
The newest and youngest member of the team, 19-year-old pastry chef Yajaira Marlen Sandoval-Castenada, said the culinary school was the best last-minute decision she has ever made.
"I am the first person in my family to go to college and had no clue where to go. Everyone was like, 'Oh, what do you love to do?' I love cooking! But I put off making a decision until the last minute...I do not regret my choice at all. I love it here," she said.
During the competition, teams are judged on an array of factors from knife skills to flavor to workflow. The judges even grade how they clean their workspace.
Management of the team rests with their captain, Jason Gray, whose resume includes time served in the military, as a 911 dispatcher and as an IT manager at Duke University. A baking experience led him to A-B Tech and the team.
"About four years ago, I made my first cake from scratch and just fell in love with cooking," he said.
The chocolate with Bailey's buttercream icing was the first of many kitchen creations for Gray who multitasked throughout the practice. He prepped vegetables and then moved to the stove, all while watching the clock and his team.
"The other team members look towards me a lot of times to guide them in some of the things and it is like a big family, " he said. "We still have our little squabbles like you do with the family. We also have a great time. We do everything we can to support each other and encourage each other."
When the final course of the practice run was finally plated, the team cleaned up and moved to a critique session to assess their performance.
Along with the team, recent graduate Roman Nourse is competing for Student Chef of the Year. Nourse also served as captain of the A-B Tech team that competed in the national finals in 2022.
Chef Instructors Chris Bugher and Stephen Hertz coach the team. Bugher said the Southeast contest was one of the most challenging he is seen in years, and he expected an even higher bar at the national finals.
Students on this year's team "have been an inspiration not only in their determination and focus on their work and menu but also in their comradery and humility to their fellow competitors," he said. "They continually show up to win, but also to make friends and network with their opposition."
A-B Tech's student team competed on Monday, July 17, and Nourse competed Tuesday, July 18. Winners will be announced at an awards dinner on Wednesday, July 19.