If you have questions, please call (828) 398-7878, email HealthOccupationsConEd@abtech.edu or Check this Web Page for Updates
Please note this course is only offered periodically. Call to add your name to be notified of any upcoming offerings.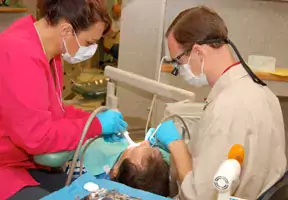 This course provides an overview of the principles and procedures of radiography as they apply to dentistry. Topics include techniques in exposing and evaluating digital radiographic images as well as radiation safety. Upon completion, students should be able to demonstrate proficiency in the production of diagnostically acceptable images using appropriate safety measures.
This course is offered for office-trained dental assistants with at least 6-12 months' experience. The didactic principles and procedures are presented online, and a face-to-face lab for clinical applications. Students are expected to attend Zoom/Compass class twice a week for a 3-hour time period, then 8 hour clinical days. Dates and times are to be determined.
Students must be 18 or older to register. Class size is limited to ten (10) students. After which a waitlist may be started. NC Dental Radiography Certification is awarded with successful completion of this course.
Questions? Call (828) 398-7878