You can also find options with weekly updates at abtech.edu/food
Food Trucks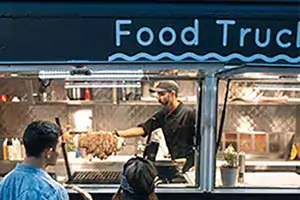 Lunch time Food Trucks are located in the Allied Health and Workforce Development (AHWD) Parking Lot by Dental Clinic (10 Genevieve Circle) from 11:30 a.m. to 1:30 p.m., Monday through Thursday when available. Visit the Food truck calendar for more information.
Campus Bookstore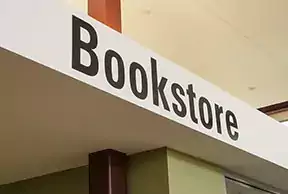 The Campus Bookstore in the Bailey Building has sandwiches and salads from local vendors Monday - Thursday. The Book Store also sells cold drinks, coffee, snacks, breakfast items, and prepackaged meal options during regular business hours. Book Store hours are Monday - Thursday, 9 a.m. to 6 p.m., Friday 9 a.m. to 5 p.m.
The Trailblazer Café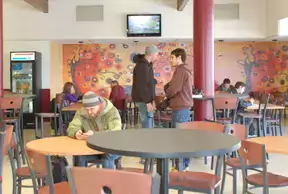 The Trailblazer Café located in the Coman Student Activity Center is currently closed but tables are still available for use.
Fine Dining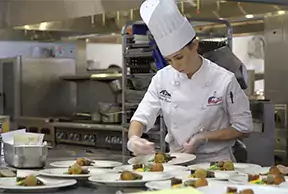 The Culinary Arts and Hospitality students offer dining experiences on most Thursdays in the fall and spring semesters. These lunches and dinners are staged by the students to gain real-world experience while still in school. Meals are held in the Magnolia Building and Fernihurst Building dining rooms on the A-B Tech Asheville Campus.
If you would like to be on the email list to receive our schedule and menus, please email reservations@abtech.edu.
Vending Machines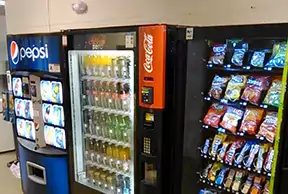 Vending machines are located throughout campus and accept cash and credit cards.