Program Outcomes:
The nursing program has a systematic evaluation plan which is fully implemented, and continuous quality improvement is demonstrated.
The nursing program solicits and utilizes feedback from communities of interest in program planning and faculty decision-making.
The nursing program has a minimum of 60% of students complete the program on time and a minimum of 70% of students complete the program within 150% of their most recent admission.
The nursing program prepares students to be successful on the NCLEX-RN.
Nursing program graduates find employment as an RN within six months of graduation.
The nursing program's students, graduates, employers, and faculty express satisfaction with the program's effectiveness.
Mission:
The A-B Technical Community College Nursing Program is dedicated to preparing highly competent and caring nurses who practice with excellence and integrity and recognize diversity and inclusion with respect to all. The faculty incorporates the following values:
Caring
Professional
Spirit of inquiry
Continuous improvement
Innovation
Inclusiveness
Vision:
A-B Tech Nursing Department is committed to providing a student-centered, high-quality, nursing education program that is recognized for its caring, integrity, inclusiveness, and excellence.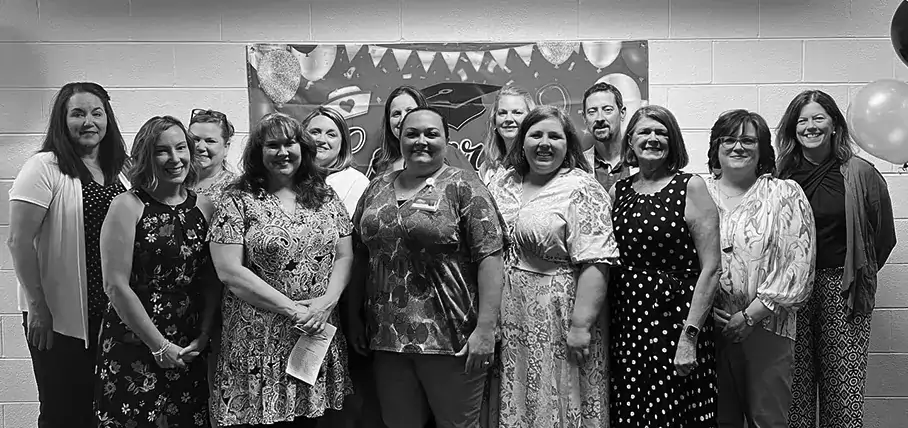 Christy Andrews, MSN, RN
Jack and Carolyn Ferguson Endowed Nursing Chair
Nita Kirkpatrick, MSN, RN
Associate chairperson of Associate Degree Nursing Program
Monica Smith, MSN, RN
Associate chairperson of Practical Nursing Program
Tipton Dillingham, MSN, RN
Clinical Coordinator of Nursing Program
Deanna Littrell, MSN, RN
Simulation Coordinator/Nursing Faculty
William "Brent" Evans, MSN, RN, CNE
Nursing Faculty
Pam Griffin, MSN, RN
Nursing Faculty
Carol Hicks, MSN, RN, CNE
Nursing Faculty
Andi Jefferis, MSN, RN
Nursing Faculty
Abby Meyer, MSN, RN
Nursing Faculty
Denise Morgan, MSN, RN
Nursing Faculty
Eileen Shupe, MSN, RN, CNE
Nursing Faculty
Joan Vassey, MSN, RN
Nursing Faculty
Monica Walls, MSN, RN
Nursing Faculty
Dr. Alyson Weimar DNP, MSN, RN, CNE
Nursing Faculty
Amanda Willis MSN, RN
Nursing Faculty
Kimberly Morehouse, MBA
Administrative Assistant